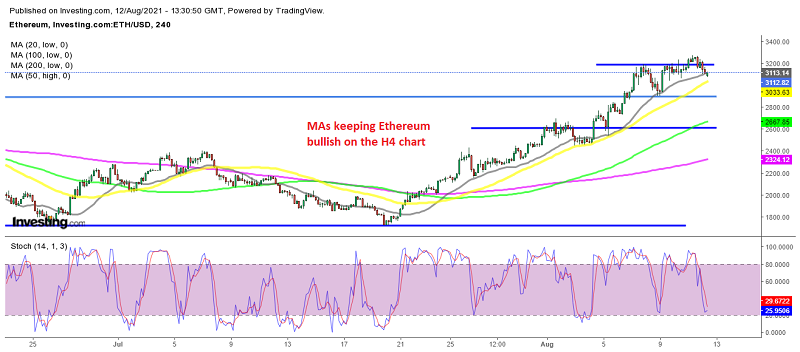 2021-08-12 15:23:52
Looking to Buy ETH/USD on this Pullback, as Ethereum Forecast Points Up
Ethereum has totally forgotten about the heavy bearish period of the previous 2 to 3 months and seems to have resumed the larger bullish trend of early this year. This cryptocurrency was trading at $1,700 about three weeks ago, while yesterday it was trading at $3,260, which is almost double the price of the low.
Ethereum Analysis – ETH/USD H4 Chart
This is quite a run in such a short time, and the H4 chart confirms it. Pullbacks down have been very shallow and the smaller moving averages have been providing solid support during such retraces, showing great buying pressure. The 20 SMA (gray) has been the ultimate support during this time, also helped by the 50 SMA (yellow) when the pullback was a bit deeper.
Now, we're in the middle of one of these pullbacks lower, and the price has slipped just below the 20 SMA. This looks like a good opportunity to go long, but we're waiting for the price to retreat further to the 50 SMA on the H4 chart. If the pullback down continues and we see ETHEREUM form a bullish reversing signal, we will open a buy Ethereum signal down there.
ETH/USD
Ethereum Analysis – ETH/USD H1 Chart
On the H1 chart, we see that moving averages have been doing a great job as support indicators here as well.  The 50 SMA (yellow) has been the ultimate support indicator, helped by the 100 SMA (green) when the pullbacks were deeper. Right now the price is trading around the 100 SMA, so we are following the price action to see if Ethereum is going to continue lower or reverse around here.
Fundamentals are strong for Ethereum, which has now implemented the London Hard Fork, or ETH 2.0 as it is called. It increases scalability and reduces the fees, since it has shifted from Proof of Work (PoW) to Proof of Stake (PoS), and that is attracting more users, who were previously put off due to the high fees and the congestion.
MAs as pushing Ethereum up on the H1 chart as well
The major US-based crypto exchange, Coinbase, revealed in its quarterly financial statement, that Ethereum was the most traded cryptocurrency on their platform during Q2 of 2021, jumping ahead of Bitcoin for the first time. So, the interest is increasing for Ethereum, and we will try to make some good profit on a decent pullback.