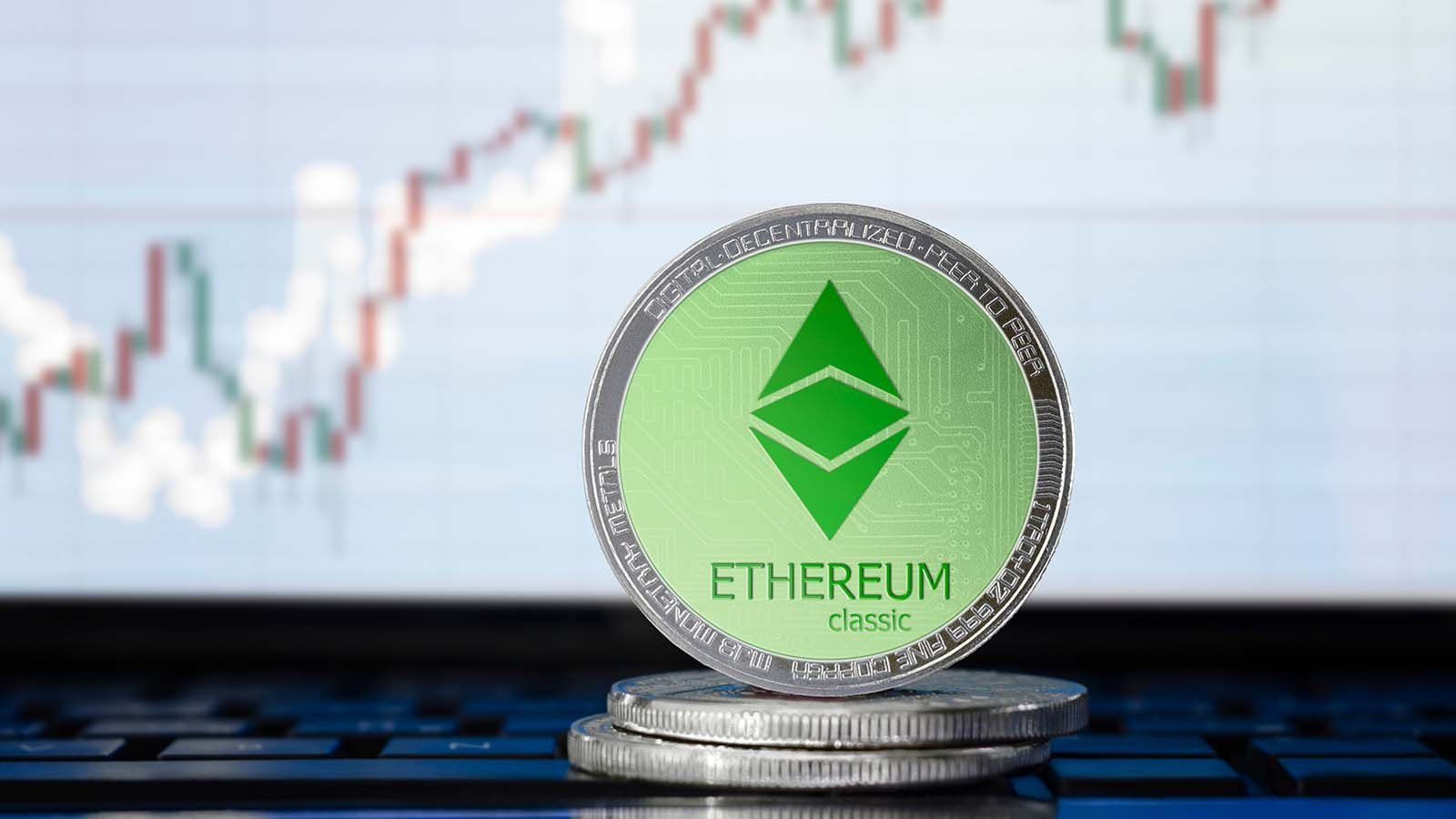 2021-07-13 20:27:44
With Magneto on the Horizon, Ethereum Classic May Be It Again
It had a first-mover advantage. But in a volatile and ever-developing crypto market and one under extreme pressure, could Ethereum Classic (CCC:ETC-USD) still be "it" and worth investing in? Let's look at those impacts off and on the price chart of ETC, then offer a risk-adjusted determination aligned with those findings.
Sony Walkman. MP3's. TiVo. Blu Ray. They were the standards of new technology and for a time reigned supreme. Most have come and gone. A couple persist with markets to collect, hoard and trade those products by their most fervent supporters.
On that somber note and in a decentralized finance (DeFi) market with estimates of as many as 9,000 cryptocurrencies (and among those digital assets an improved Ethereum (CCC:ETH-USD) blockchain), is ETC a classic in name only? Maybe. But there's also a chance and not unlike Coca-Cola's (NYSE:KO) "new" Coke and Coke Classic battle, the original formula prevails.
A Look  at Etherum Classic
So, what's the distinction between the two types of Ethereum? In a nutshell ETH and ETC splintered following a 2016 hacking incident.
ETC functions under Ethereum's original proof-of-work (PoW) protocol. Alternatively, ETH's blockchain is transitioning to a consensus proof-of-stake (PoS) platform.
Digging slightly deeper, PoS success is determined by network engagement from its "stake holders." ETH is seen as more transparent and does have an advantage of reduced energy consumption to function. Importantly, that means it's also proven a greener choice for a world combating climate change.
ETH may also be a double-edged sword though. As InvestorPlace's Josh Enomoto recently explained, as ETH's PoS blockchain becomes ever-more efficient, in theory THE shrinking profit margin will mean less incentive for stake holders to participate.
ETC or Ethereum Classic and its more clunky inefficient workings avoids this possible economic pitfall. And let's face it, most developers and miners aren't involved in Ethereum to actually save the manatees.
Magneto Awaits
As well and today, or rather at the end of the month, ETC developers have set an overhaul target for a network known as Magneto.
Magneto is expected to incorporate a variety of planned projects promising greater security and lower gas fees, i.e. the computational effort required to make a transaction or execute a smart contract on Ethereum. It could be just the sort of upgrade to give the advantage to ETC.
Given those prospects maybe Ethereum Classic (and similar to Coke Classic) will take out the upstart and once again be "it" with crypto investors, miners and developers? Maybe, but it may be time to look at the ETC price chart for clues.
Ethereum Classic / ETC-USD Weekly Price Chart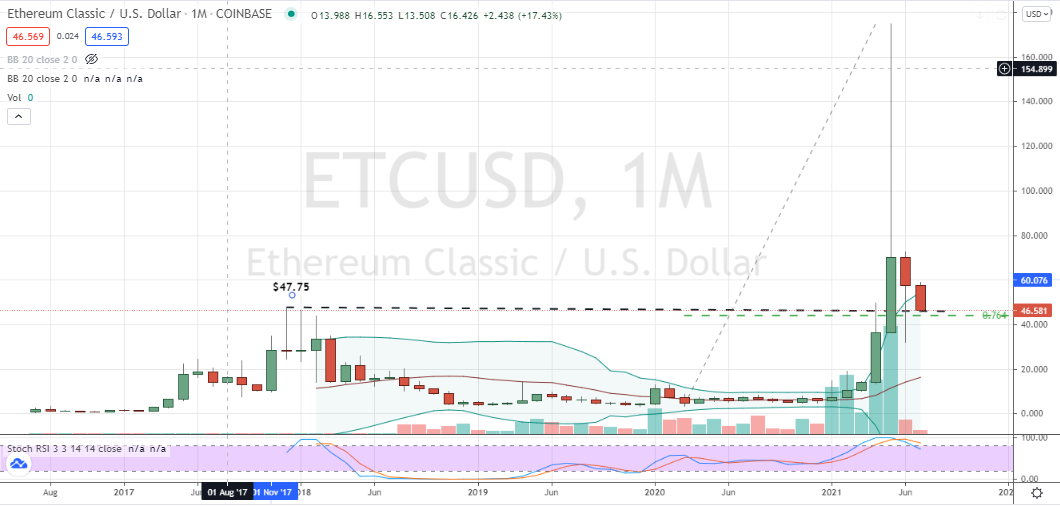 Source: Charts by TradingView
By some measures, Ethereum Classic has actually been "it" with investors in 2021. Since entering the year the crypto is up a massive 719%. That compares favorably to ETH, which has seen gains of 172%. But the sizable outperformance isn't the end all, say all by any means.
Viewed through another looking glass, the illustrated ETC monthly chart reveals a different and difficult test facing investors that believe ETC "is it."
The combination of past underperformance and current relative weakness during the current crypto bear market has resulted in Ethereum Classic challenging much deeper key technical support area than ETH. And it appears to be an important make-or-break situation for ETC.
With ETC testing its former 2017 all-time-high and 76% retracement level tied to its Covid crash low to May 2021 all-time high, a failure to hold support could be a sure indication market participants are making a final choice with the direction Ethereum will take.
Bottom line, Ethereum Classic may still exist for a number of years to come without being relevant. But if already breached technical support can't make good on the promise of June's bullish hammer bottom – it may be time for all but ETC's most ardent base, to give up the ghost.
On the date of publication, Chris Tyler holds (either directly or indirectly) positions in Grayscale Ethereum Trust (ETHE) and Ethereum Classic Trust (ETCG). The opinions expressed in this article are those of the writer, subject to the InvestorPlace.com Publishing Guidelines.
Chris Tyler is a former floor-based, derivatives market maker on the American and Pacific exchanges. For additional market insights and related musings, follow Chris on Twitter @Options_CAT and StockTwits.