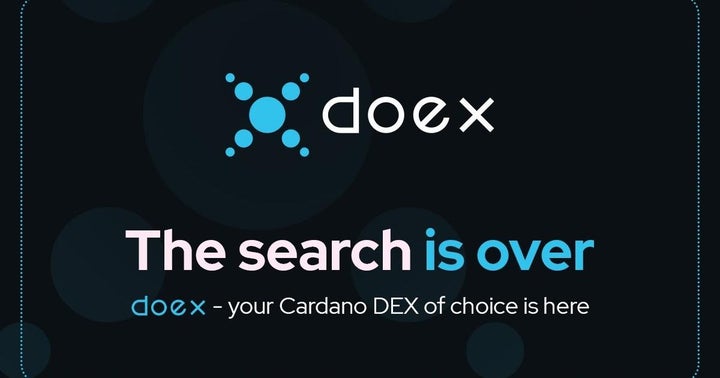 2021-12-14 14:23:00
Cardano-Based DOEX Trading Platform's Public Sale Is Live On ExMarkets
The Cardano ecosystem continues to grow and evolve thanks to the introduction of ADA staking and smart contracts. As a result, competition is heating up for the race to become the top decentralized exchange in this ecosystem. The Do.Exchange (DOEX) team has recently unveiled an overview of what its platform will bring to the table. 
DOEX Offers Many Useful Tools And Features
It becomes difficult to stand out in the ever-growing competitive landscape of decentralized exchanges. In recent months, many protocols have embraced the Automated Market Maker (AMM) model, enabling users to explore various market opportunities and maximize their trading potential. DOEX will similarly approach the decentralized exchange concept but provides a professional-grade user interface and experience that caters to the needs of novice and advanced traders alike. 
Moreover, there is a growing need for customization when dealing with decentralized exchanges. Unfortunately, most DEX platforms have a strict user interface that is rather barebones and provide a sub-optimal experience. DOEX Shows it can be done differently while still providing customization options through unique panels presenting helpful information, displaying analytics, and enabling platform-specific functionalities. Empowering the user goes beyond allowing different trading pairs, as it should also extend to how they use the information and tools at their disposal. 
Moreover, traders need a good overview of the current market conditions, which will change continually. DOEX has a set of charts depicting current market situations, the performance of one's portfolio – updated in real-time – and accurate market pricing. These aspects are crucial when dealing with cryptocurrencies, either onlooker or trader. Additionally, the integration of the Nami wallet ensures users can perform swift transactions and exploit market gaps in real-time.
The core vision for Do.Exchange revolves around building solutions that will benefit all stakeholders in the Cardano ecosystem. The team created this decentralized exchange to achieve that goal, which will receive more functionality – including staking support – in the future. There will also be a stronger focus on the Analytics side of the spectrum, with other functionalities to be announced in future updates. 
Public Sale Is Live On ExMarkets
As the demand for decentralized exchanges on Cardano becomes more outspoken, projects like DOEX will note tremendous attention for their token public sale. The public sale for DOEX is currently live on the ExMarkets Launchpad platform and runs until either December 27, 12:00 pm (GMT+2) or until the $2.52 million hard cap has been reached. There is no KYC requirement, making the public sale very accessible. The following tokenomics apply:
Ticker: DOEX

Price: $0.15 USD

KYC: No

IEO Start date: 2021-12-13 12:00 (GMT+2)

IEO End date: 2021-12-27 12:00 (GMT+2)

Total token supply: 140,000,000

Available for sale: 16,800,000

Hard cap: $2,520,000 USD

Payment options: USDT ERC20, ADA, ETH, BTC, USDC
The low hard cap and affordable price per DOEX make for an attractive investment opportunity. Moreover, Do.Exchange had noted tremendous attention from investors before this token sale went live, indicating swift action may be of the essence.
Image Sourced from Monccur PR