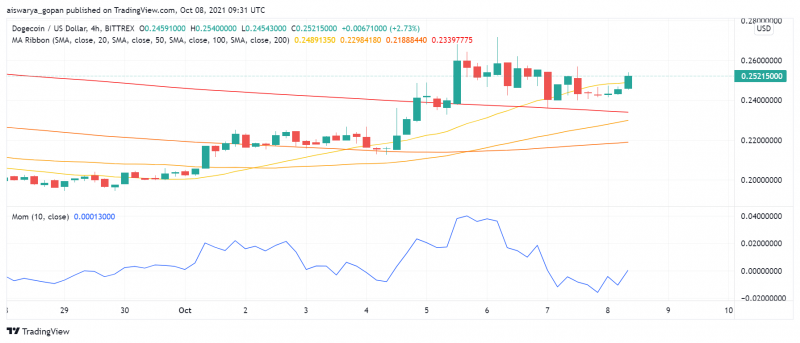 2021-10-08 10:33:33
Dogecoin (DOGE) Back on Bullish Track After Slight Dip
Dogecoin (DOGE) has regained its bullish mood after a small slide in early trading on Friday, enjoying the support of several interesting fundamental developments as well as an upbeat mood among investors towards the crypto market in general. At the time of writing, DOGE/USD is trading around $0.
AMC CEO Announces DOGE as Payment For Gift Cards
Although it is holding still at the moment, there are several developments that can support an upcoming rally in the leading memecoin in the near-term, as long as the sentiment in the crypto market remains strong. One of the biggest updates is US-based theater chain AMC's announcement to start accepting DOGE payments for the purchase of gift cards. This is the first step towards rolling out support for crypto as a mode of payment for concessions and tickets, something that could happen as soon as end of this year.
The most popular memecoin received additional support from one of its leading promoters, billionaire investor Mark Cuban, who stated that customers like to purchase Mavericks merchandise using Dogecoin as it is really easy to spend. He went on to say that what worked in DOGE's favor against other more volatile cryptocurrencies like Bitcoin is that its price does not appreciate too much, preventing users from holding on to their investments in the coin for the future and spending with it on a frequent basis instead.
Other Fundamentals Also Support Dogecoin
Also supporting a possible bullish bias in DOGE soon is popular brokerage Public.com's decision to list it on its platform for its users to trade. Public is a new and emerging trading app and could be trying to capitalize on the rising popularity of crypto trading and take on another leader in this space, Robinhood. Its decision to include DOGE among the initial list of crypto offerings indicates the popularity of this crypto among retail investors.
Meanwhile, Dogecoin users now have one more avenue for spending their holdings in the coin with US-based fashion brand Pacific Sunwear (PacSun) announcing that it will start accepting payments in cryptocurrencies, including DOGE. The brand has partnered with BitPay to allow customers to pay in cryptocurrencies, accepting Bitcoin and 10 other coins, including DOGE.
DOGE/USD Technical Analysis
According to popular crypto strategist and trader Loma, DOGE is facing some uncertainties in the near-term and its price action could go either way. In a recent Twitter update, he observes that Dogecoin's price is sitting at a crucial level at the moment and moves now could confirm whether the memecoin can outperform crypto king or head on lower.
Technical analysis of the 4-hour price chart of DOGE/USD reveals a strong bullish bias among moving averages as well as the momentum indicator. Although, the MACD points to some interest among sellers as well.
DOGE/USD
Dogecoin's price is well past the pivot point at $0.21 and has overcome two key resistance levels at $0.23 and $0.24. Further bullishness can see buyers soon face a test at the resistance at $0.27.