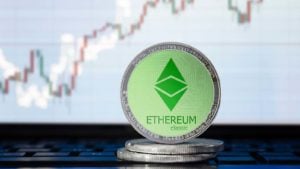 2021-07-27 21:38:47
Ethereum Classic: The Magneto Update Shouldn't Move ETC Long-Term
While it no doubt carries many positives, there's little reason to believe the July 21 Ethereum Classic (CCC:ETC-USD) Magneto upgrade should push prices upward long term. 
Firstly, there's the simple fact that Ethereum (CCC:ETH-USD) took off following the 2016 hard-fork which separated the two cryptocurrencies. Ethereum Classic did not.
By the numbers, Ethereum carries a market capitalization of $261 billion. The classic version, on the other hand, has a market cap of $6 billion. 
The classic version also lacks the clout that the updated Ethereum has. Ethereum Classic stagnated for years following its users' choice to run pre-fork software because they believed it should remain immutable indefinitely. To me personally, it seemed overly traditionalist to not change the code given the fact that $60 million of stolen money could be returned by doing so, but I digress.
That slight rant aside, let's get back to the Magneto upgrades. I think that investors are unlikely to be enticed by the benefits of those Magneto upgrades. 
Magneto Benefits for Ethereum Classic
The Magneto upgrade is being touted for its increased security and lower transaction fees. That is all well and good, but those may not be issues that are particularly relevant to Ethereum Classic's price. 
It doesn't appear that security issues are holding ETC prices back. It also appears that there are no explicit security enhancements inherent within the Magneto upgrade. This recent article refers to the optimizations to gas fees and transaction optimizations as having "implied security enhancements important for the network" but does not elaborate on what the direct security impact is. 
Granted, the article was written not by the Ethereum Classic organization. And maybe the security updates are significant. However, given the technical nature of crypto and its opacity, investors want clarity. 
An Issue of Fees?
The other purported benefit of the Magneto upgrade is that it will optimize gas fees on the ETC network. 
Recent data from Coindesk indicates that the average transaction fee is roughly two-thirds of a cent when utilizing Ethereum Classic, down from fees earlier this year of 2-3 cents. That seems pretty reasonable, especially when compared to fees on other cryptos. For instance, investors are clearly unhappy with transaction fees of Ethereum, which run over $6 per transaction. 
The point here is, again, that the upgrade's benefits look to do little in addressing ETC's relative weakness. Cheaper transaction fees are no doubt a good thing, but I fail to see how this will help Ethereum Classic emerge from the shadow of Ethereum. 
More importantly, the Magneto upgrade shouldn't move the price of ETC much as fees aren't a salient issue. 
ETC Isn't Offering Anything Too New
Ethereum Classic underwent the Thanos hard fork back in November. And the Magneto upgrade is being thrust onto network users as well. That article referenced above spells it out: 
"A hard fork is a change to the underlying Ethereum Classic protocol, creating new rules to improve the system. The protocol changes are activated at a specific block number. All Ethereum Classic clients need to upgrade, otherwise, they will be stuck on an incompatible chain following the old rules."
This sort of upgrade may be great for people who already see the value in ETC, but it doesn't feel like enough to push it to the top of new investors' pile of altcoin options. So I see little from Magneto that should move ETC's price.
On the date of publication, Alex Sirois did not have (either directly or indirectly) any positions in the securities mentioned in this article. The opinions expressed in this article are those of the writer, subject to the InvestorPlace.com Publishing Guidelines.
Alex Sirois is a freelance contributor to InvestorPlace whose personal stock investing style is focused on long-term, buy-and-hold, wealth-building stock picks. Having worked in several industries from e-commerce to translation to education and utilizing his MBA from George Washington University, he brings a diverse set of skills through which he filters his writing."