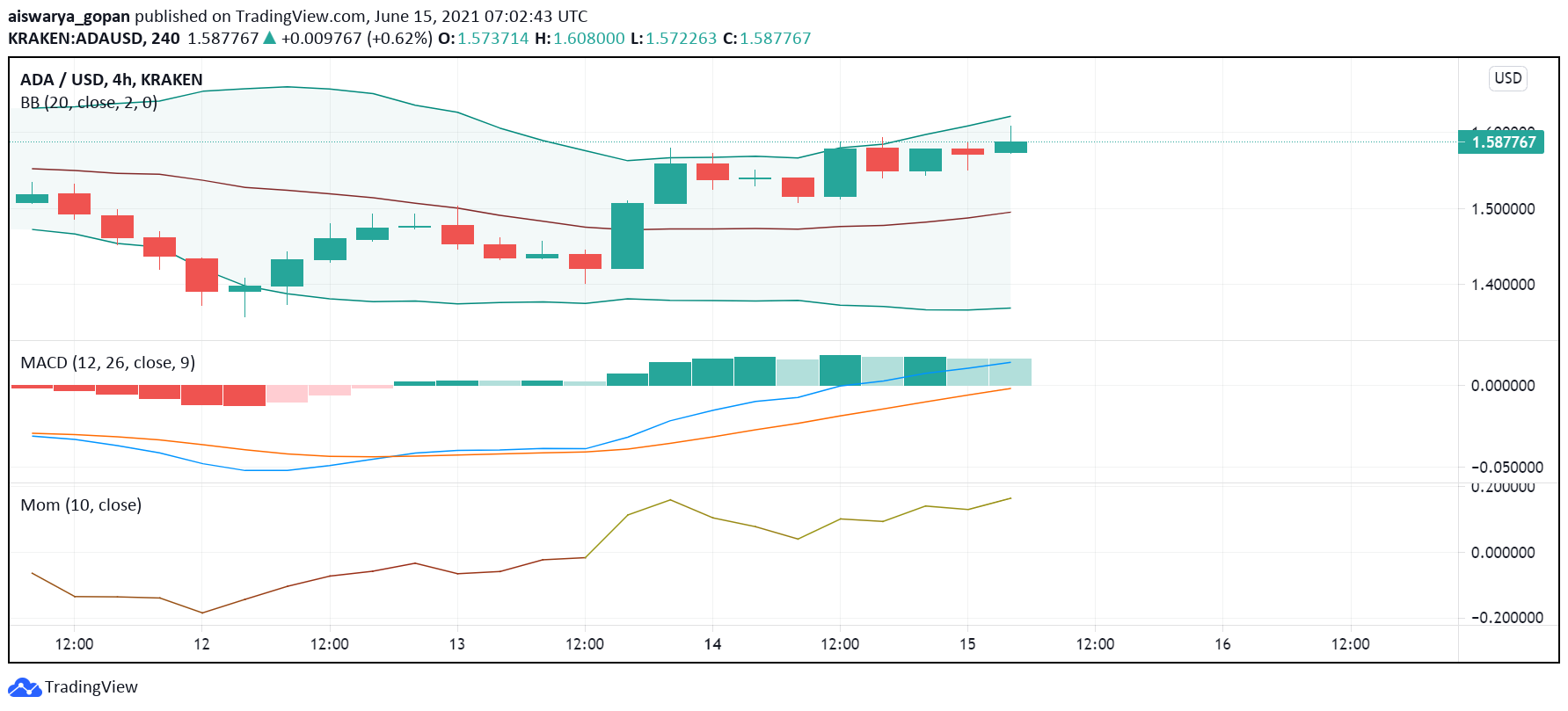 2021-06-15 08:00:00
Experts Are Bullish About Cardano's Prospects: What's Happening?
Cardano (ADA) is off to a bullish start in early trading on Tuesday, up by almost 4% over the past 24 hours, and there seem to be several promising fundamental developments that can sustain the current upbeat mood. At the time of writing, ADA/USD is trading at around $1.58.
In a recent conversation with MIT AI researcher Lex Fridman in his podcast, Ethereum's co-founder Vitalik Buterin pointed out that IOHK – the company behind the development of the Cardano network, was putting out "interesting ideas" as part of their work on the blockchain. He also went on to discuss the differences with Ethereum, especially their focus on academic approach and deep rigor and talked about how innovation by Cardano and other competitors offers a learning experience.
More praise for Cardano came in from another member of the original team that worked on Ethereum's development, Anthony Di Iorio. Now the CEO of Canada-based blockchain startup Decentral and crypto wallet Jaxx, he admired founder Charles Hoskinson's different approach towards innovation, adding that it supports the potential for further growth in ADA's value, in line with our previous forecast for this digital asset.
Cardano has also been featured among the top three crypto assets for the year by Altcoin Daily, sharing the stage with market leaders Bitcoin and Ethereum. According to the host of Altcoin Daily's YouTube videos, Aaron Arnold, Cardano's upcoming upgrade which will add smart contract capabilities is likely to support its uptrend in the coming months.
Key Levels to Watch
On the 4-hour price chart of ADA/USD, most of the moving averages as well as leading technical indicators MACD and momentum are supporting a bullish bias. The price sits comfortably above the pivot point at $1.55 indicating a strong uptrend currently underway.
The next hurdle buyers will encounter is resistance at $1.75, and a break above this can easily see ADA test the key $2 level. However, a break above this level will need further buying pressure to overcome resistance just under $1.95.