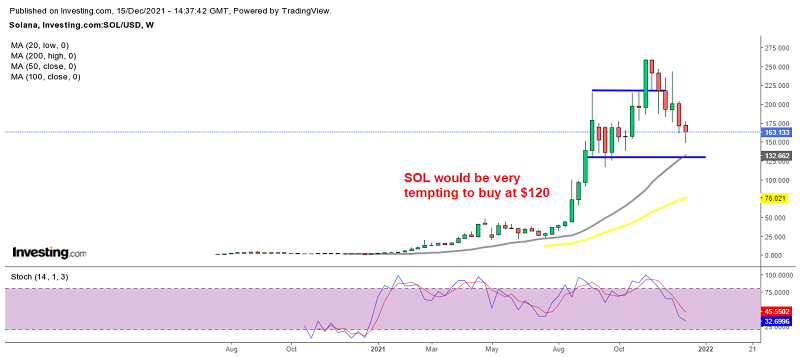 2021-12-15 16:03:18
Looking to Buy Solana (SOL) and Cardano (ADA) As They Slip Lower
The theme in cryptocurrencies for more than a month has been the bearish momentum, which has sent cryptos lower, losing considerable value in the process. This looks similar to the decline in May which came after the surge for several months. In a similar manner, we have seen a bullish period in cryptocurrencies since August, but we saw a major decline in early November and they continue the bearish period, probably before resuming the bullish trend again. We are following this decline in cryptocurrencies, to see where we can go long, particularly on Cardano and Solana.
Solana Weekly Chart Analysis – Approaching the 20 SMA
Solana coin has been pretty strong since late July, surging around 10 times higher until early November, as the number of projects on the Solana network kept increasing. It has remained strong eves during bearish times like in September. But, the bearish momentum in the crypto market has weakened Solana as well, which is trading around $160 now.
Besides that. Solana suffered during the weekend over news of a possible network outage on Friday. There was network congestion on account of Raydium's latest AcceleRaytor IDO bu it did not take down the network. Although it did cause transaction processing delay, leading to frustration among several users who prefer Solana's ecosystem for its high throughput against Ethereum's network congestion issues.
So, Solana has been on a bearish footing for about a month, although I am liking the decline, since it makes Solana cheaper to buy. I would prefer SOL/USD to fall to around $130, which is the low zone from back in September and the 20 weekly SMA (gray) stands there right now. Stochastic would be oversold by then and the retrace would be complete, before the next bullish leg resumes. So, we are watching Solana as it slips lower.
Cardano Weekly Chart Analysis – Breaking the 50 SMA
ADA heading for the bottom of the range at $1
Cardano has been bearish since September, despite the crypto market rallying higher until early November. Fundamentals for Cardano looks pretty good, despite some issues with the Alonzo upgrade, which are being resolved anyways.
Alonzo brought smart contracts to Cardano and many projects have been built on it since then, while Sundaeswap is the first DEX (decentralized exchange) and the first time a project has leveraged Cardano smart contracts to exchange tokens. But, ADA/USD continues to slip lower and it seems to be breaking the 50 weekly SMA (yellow) now. If Cardano breaks that moving average, then it will head for $1, where we will look to buy this digital coin.
ADA/USD