2021-07-02 10:57:00
MELD – the 'Banking Stack of Cardano' launches novel ISPO bringing in $100m of staked ADA
Thank goodness it's Friday – it's been a frantically busy week, with today being no exception as I have not one, but two interview recording sessions  – Bridging the Gap with Jessica Walker for World Mobile and Cryptonites TV with Alex Fazel of SwissBorg.
Yesterday saw the launch of the Initial Stake Pool Offering ('ISPO') of MELD whom, as you know, I advise and I am pleased to announce that we have attracted $100 million of staked ADA already with much more to come.
There has been talk of running ISPOs in the Cardano Ecosystem before but no one has ever gone out and made it a reality until now. I'm delighted that we figured out how the community at large and not just institutional investors can participate in the early stages of new projects built on the Cardano Blockchain.
By setting this parameter, MELD knows that this will change the way in which future projects on the Blockchain will be able to raise whilst keeping true to the Cardano ethos of inclusion for everyone. Vitally, we have also secured solid legal opinion on the methodology which will go into the 'playbook' which will be shared with the Cardano Foundation and sets the precedent for many other Cardano based projects to follow suit.
Crypto at a Glance with JASON DEANE…
Say what you want about the newly-formed Bitcoin Mining Council (and many do) yesterday's webinar revealed some impressive, if slightly unexpected, numbers.
The BMC was formed as a voluntary association of miners, the brainchild of Microstrategy CEO and Bitcoin GigaChad Michael Saylor, no doubt inspired – at least in part – by Elon Musk's mass spreading of misinformation about its energy use and his decision to stop accepting Bitcoin for Tesla purchases as a result.
Over the last quarter, the BMC had been collecting energy data from major players, 23 in total, accounting for 32 per cent of the global network. Even relatively small players, like the operation I use in Siberia powered entirely by stranded hydro energy, submitted data. While still less than half of the network, it's enough to give the most accurate representation yet of the energy mix of this disparate and controversial industry.
So, are we set for boiled oceans and a parched earth? Well, as miners themselves already knew, no.
Bitcoin's total energy use globally is tiny at 0.1 per cent of the world's total output. To put that into context, it's generally accepted that, at the very least, one per cent of the world's energy consumption is lost in electronic devices left on standby around the world. Some estimates place it as high as 15 per cent – which seems ridiculous – but in any case, Bitcoin use is negligible by comparison.
And here's the kicker. BMC miners reported that their mix of carbon free energy generation was 67.6 per cent – higher than any other industry, or even major country on the planet. Adjusting for the rest of the network, the overall percentage drops to 56 per cent with a clear and positive trend emerging.
This doesn't come as a surprise to miners who have long since sourced stranded or cheap renewable energy, but it's likely to raise a few eyebrows among the detractors and those who think Bitcoin shouldn't be mined, even if it cleaned the oceans at the same time.
Musk committed to start accepting Bitcoin for Telsas again when Bitcoin's renewable energy was over 50 per cent and had a positive trend, something the report clearly shows.
Funny thing is, Musk appears to have deleted that tweet shortly after the report came out last night.
Make of that what you will.
Have a great weekend!
Would you like to help spread the adoption and education of Bitcoin in the UK and even stack some Sats while you're doing it? Well, now you can!
The Bitcoin Pioneers community, backed by Barry Silbert's Digital Currency Group, was created to introduce Bitcoin to a mainstream audience in a meaningful way and now has members right across the UK.
We share tips, stories and ideas on how to encourage others to try Bitcoin for the first time. And, thanks to support from Luno, each Pioneer gets £500 of Bitcoin a month to share with beginners, helping them get started.
So, if you're passionate about Bitcoin, why not join today? Click here to find out more!
All feedback on Crypto AM Daily in association with Luno is welcome via email to [email protected] 🙏🏻
In the markets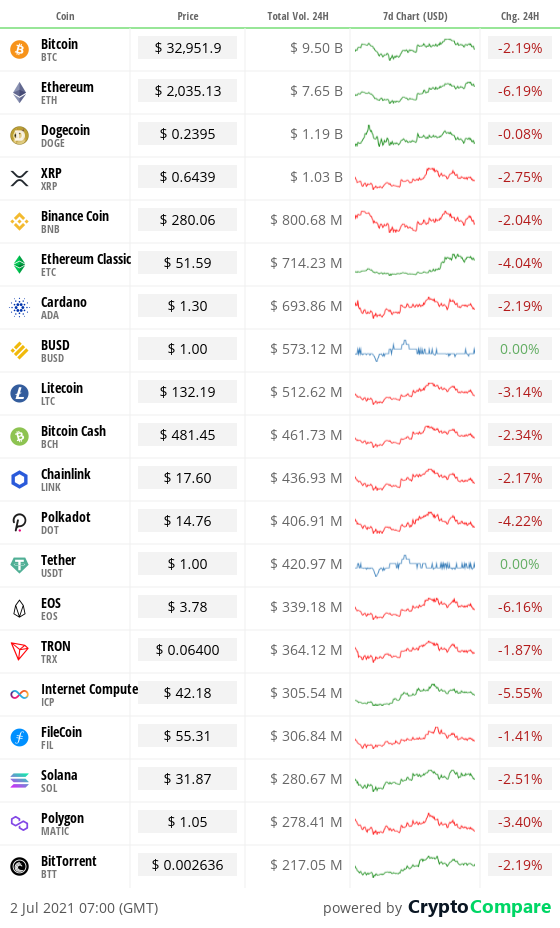 The Bitcoin economy
*Definitions and insights can be found at https://bytetree.com/insights/
Total crypto market cap
The total capitalisation of the entire cryptocurrency market at time of writing is currently $1,348,848,174,945 down from $1,423,916,574,990 yesterday.
What Bitcoin did yesterday
We closed yesterday, July 1 2021, at a price of $33,572.12, down from $35,040.84, the day before.
The daily high yesterday was $35,035.98, and the daily low was $32,883.78.
This time last year, the price of Bitcoin closed the day at $9,123.41. In 2019, it closed at $10,801.68.
Bitcoin market capitalisation
Bitcoin's market capitalisation at time of writing is $618.3 billion down from $631.4 billion yesterday. To put it into context, the market cap of gold is $11.288 trillion and Facebook is $1.004 trillion.
Bitcoin volume
The total spot trading volume reported by all exchanges over the last 24 hours was $33,797,950,762 down from $34,853,515,347 yesterday. High volumes can indicate that a significant price movement has stronger support and is more likely to be sustained.
Volatility
The price volatility of Bitcoin over the last 30 days is 80.7%.
Fear and Greed Index
Market sentiment today is 21.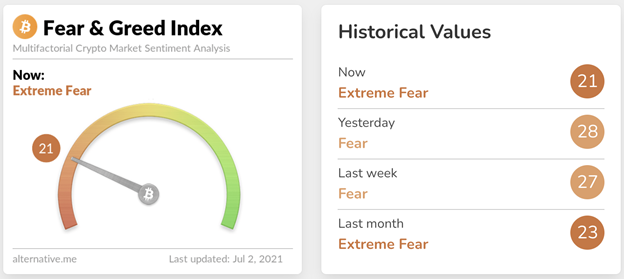 Bitcoin's market dominance
Bitcoin's market dominance today is 46.35, Its lowest ever recorded dominance was 37.09 on January 8, 2018.
Relative Strength Index (RSI)
The daily RSI is currently 43.64. Values of 70 or above indicate that an asset is becoming overbought and may be primed for a trend reversal or experience a correction in price – an RSI reading of 30 or below indicates an oversold or undervalued condition.
Convince your Nan: Soundbite of the day
"I encourage people to buy and hold. I encourage them to save Bitcoin for their retirement, for their future. I think one of the strongest stores of value for the long run is Bitcoin."

– Cynthia Lummis, US Senator and Bitcoin bull
What they said yesterday
Awaiting his answer with bated breath…
Oh…
Meanwhile…
In more important news…

Crypto AM editor's picks
Nukkleus acquires London based Match Financial
Binance given the boot by UK financial watchdog
Ripple outpacing Bitcoin among UK crypto investors
Cardano bridges the gap to China by teaming up with Nervos Blockchain
Crypto AM: Longer Reads
City AM Markets: What is Decentralised Finance (DeFi) by Aave
Crypto AM: Conversation with James Bowater
Crypto AM: Market View in association with Ziglu
Crypto AM: Technically Speaking
Crypto AM: A Trader's View with TMG
Crypto AM: Mixing in the Metaverse with Dr Chris Kacher
Crypto AM: Visions of the Future, Past & Present with Alex Lightman
Crypto AM: Talking Legal
Crypto AM: Spotlight
Crypto AM: Founders Series
Crypto AM: Industry Voices
Crypto AM: Tiptoe through the Crypto with Monty Munford
Crypto AM: Definitively DeFi
Crypto AM Parliamentary Special
Part one of two – April 2021
Part two of two – April 2021
Five-part series – March 2021
Part one…
Part two…
Part three…
Part four…
Part five…
Crypto AM Events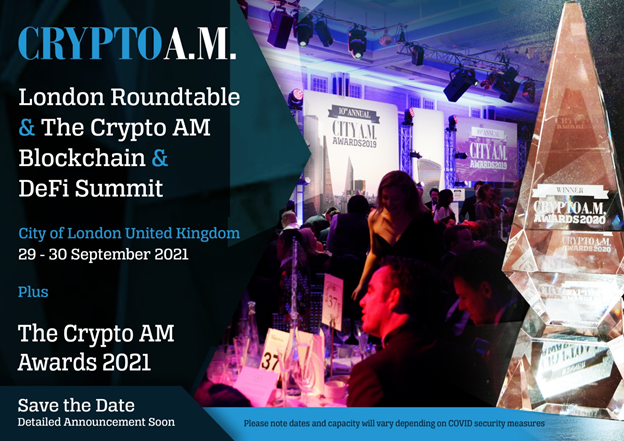 Cautionary Notes
It's definitely tempting to get swept up in the excitement, but please heed these words of caution: Do your own research, only invest what you can afford, and make good decisions. The indicators contained in this article will hopefully help in this. Remember though, the content of this article is for information purposes only and is not investment advice or any form of recommendation or invitation. City AM, Crypto AM and Luno always advise you to obtain your own independent financial advice before investing or trading in cryptocurrency.
All information is correct as of 08:30am GMT.