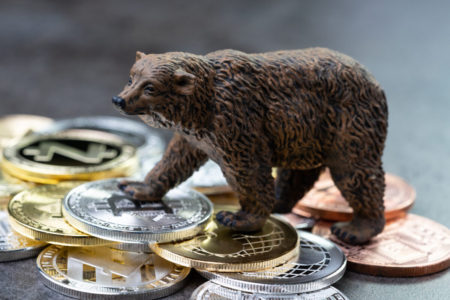 2021-07-14 08:00:00
When Is the Right Time To Buy?
Bitcoin was lower Wednesday, falling along with most digital assets. Over the past seven days, Bitcoin is down 6.79%, while Ethereum has lost 18.49%.
Bitcoin declined to lows of $31,600 on July 14 as inflation reached the highest levels in 13 years, according to new Consumer Price Index data. Yearly inflation climbed a whopping 5.4%, well above the 2% long-term rate target the U.S. Federal Reserve sees as economically healthy.
Federal Reserve Bank of St. Louis President James Bullard had announced on July 13 that the U.S. economy was ready for a gradual unwinding of the central bank's liquidity-boosting bond purchase program launched a year ago. Taper talk is considered bearish for the cryptocurrency market, however, the policymaker assured that the central bank would be extra careful while pulling back stimulus.
The Altcoin market was hit hard by the sell-off, leaving few tokens such as Axie Infinity (AXS, + 13.11%), Augur (REP, +33.16%), Origin Protocol (OGN, +10.50%) in the green. Bitcoin dominance which represents BTC's market capitalization as a percentage of all cryptocurrency markets rebounded to about 45.9%.
The attention shifted again to Bitcoin when Archane Research stated "In a downward trending crypto market, Bitcoin is the safest bet,". This caused Bitcoin's market dominance to increase slightly.
BTC/USD Daily Chart
Bitcoin was trading marginally up at $32,800 as of press time. Positive news that Paraguay Proposed Bitcoin Law would be introduced into the country's legislature tomorrow helped improve the market sentiment.
When Is the Right Time To Buy?
To answer this, it may be pertinent to review the various stages of a market cycle to help get a better understanding of what the market has been through so far and what might be expected in the days ahead.
According to Investopedia, there are four basic phases of a market cycle, which are the accumulation phase, the mark-up phase, the distribution phase, and the mark-down phase. In the accumulation phase, the market has bottomed, and early adopters and contrarians see an opportunity to jump in and scoop up discounts. At this phase, prices are lesser and thus very attractive while the general market sentiment is still bearish.
The Mark-Up Phase represents the stage at which the market attained stability for a while and is beginning to move higher. The mark-up phase climaxed in December 2020 and extended into January 2021 as BTC and the decentralized finance (DeFi) sector caught investor attention.
In the Distribution Phase which is the third phase of the market cycle, sellers begin to dominate. This part of the cycle is identified by a period in which the bullish sentiment of the previous phase turns into a mixed sentiment. Prices can often stay locked in a trading range that can last a few weeks or even months.
The mark-down phase is when the market takes a downturn which is the most painful for those who still hold positions. However, this may be a buy signal for early innovators and a sign that a bottom is imminent. Major price rallies during this time are often viewed with disbelief.
For smart money, the accumulation phase remains the best time to buy because prices have bottomed and everyone else is still bearish. These types of investors are also called contrarians since they are going against the common market sentiment at the time.
So, does that mean that now is a good time to buy? Unfortunately, there is no guaranteed correct answer as regards this, as this decision remains something for each investor to determine on their own. Investors are always advised to do their due diligence before taking their investment actions.
Image Credit: Shutterstock