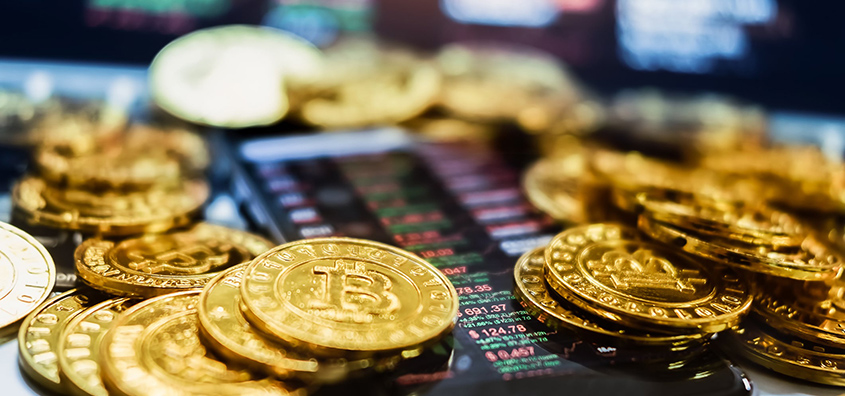 2021-04-06 14:19:29
The Cryptocurrency Market Just Surpassed $2 Trillion Valuation
With growing acceptance, cryptocurrencies are rallying to higher highs. In fact, days after Visa announced it could settle transactions with digital currencies, the crypto market surpassed a $2 trillion market valuation for the first time. Showing no signs of slowing, the digital currency boom has also been beneficial for include TechX Technologies Inc.'s (CSE:TECX) (OTC:TECXF)(FRA:C0B1) Catalx.io, BIGG Digital Assets Inc. (CSE:BIGG)(OTC:BBKCF), Voyager Digital Ltd. (CSE:VYGR)(OTC:VYGVF), Banxa Holdings Inc. (TSXV:BNXA)(OTC:BNXAF), and Marathon Digital Holdings Inc. (NASDAQ:MARA).
"The milestone comes less than three months after it surpassed $1 trillion in overall value on January 7," reports Newsweek, adding that, "Institutional and retail investors have flocked to the cryptocurrency market since the start of the year, analysts said, pushing many blockchain backers to encourage others to join the massive movement into decentralized finance."
Look at TechX Technologies Inc., for example
To date, the company has raised a million dollars, invested in Canada's premier cryptocurrency exchange, the Catalyx Exchange, and announced two LOIs to acquire two cryptocurrency businesses. In addition, Catalyx launched FastBitCash.ca, a platform that offers the fastest Bitcoin purchase and withdrawal in Canada.
Most recently, the company announced that its portfolio company, Catalyx Exchange is listing its Canadian Stablecoin, CADX on the Bittrex Global exchange. Bittrex is one of the world's top 10 cryptocurrency exchanges in terms of liquidity and provides the widest selection of cryptocurrencies.
CatalX, which is Canada's premier cryptocurrency exchange with over 40+ Altcoins available for purchase, launched its Canadian dollar fiat-backed stablecoin CADX in 2020 through a partnership with Seattle-based fintech company Stably. Every CADX token is fully-backed and redeemable for $1 Canadian dollar, held in an audited account managed by Prime Trust, a Nevada-chartered trust company who is the official regulated trustee and CVC administrator for CADX. CADX is powered by Stably's ERC20 smart contract technology, which has been audited by leading US-based blockchain security firm, QuantStamp.
"We are beyond excited to become the first Canadian dollar-backed stablecoin to be listed on one of the world's top 10 crypto exchanges," said TechX CEO Jae Park."The listing of the CADX coin on Bittrex is great news not only for the company, but for crypto traders across the globe who want more options to choose from." CatalX and Bittrex first partnered in 2018 to launch the Catalyx Exchange and provide a solution for Canadian customers who wanted more selection for digital assets, but on a secure, reliable platform in Canada.
Other related developments from around the markets include:
BIGG Digital Assets Inc., the online cryptocurrency brokerage that makes it easy for Canadians to buy, sell, and understand cryptocurrency, is pleased to announced its strategic investment of CAD $100,000 in DeFi Ventures Inc. DeFi Ventures is a Vancouver-based company seeking to simplify and streamline access to the assets and technology that power the new era of decentralized finance.  DeFi Ventures has a core team of seasoned engineers and takes a technology-first and data driven approach which informs its execution of product offerings and strategic initiatives. Their flagship product DFX (www.dfx.fi) is a proprietary dashboard which integrates with the entire DeFi ecosystem. DeFi Ventures also holds and stakes digital assets, providing investors with a simple way to gain exposure to DeFi assets.
Voyager Digital Ltd., a publicly-traded, licensed crypto-asset platform that provides investors with a turnkey solution to invest in and trade crypto assets has purchased a full season Oakland A's suite at the Oakland Coliseum for one Bitcoin, becoming the first purchase of a ticket offering priced in cryptocurrency in MLB. "Voyager is proud to make history with this crypto purchase. More and more digital assets are becoming sought-after forms of payment as businesses and consumers embrace cryptocurrencies," said Steve Ehrlich, CEO and Co-founder of Voyager. "We've enjoyed a strong relationship with A's right fielder Stephen Piscotty and look forward to growing our relationship within the A's organization. Voyager intends to share the suite with our customer community in the Bay Area and beyond."
Banxa Holdings Inc., a Payment Service Provider (PSP) for the digital asset industry, is pleased to announce that its common shares are now eligible for electronic clearing and settlement through The Depository Trust Company in the United States. The Company's common shares are quoted in the United States on the OTCQX Venture Market under the symbol "BNXAF." DTC manages the electronic clearing and settlement of publicly traded companies in the United States. DTC eligibility simplifies the process of trading and transferring the Company's common shares between brokerages in the United States, it also allows the shares to be traded on most common online platforms. Banxa's common shares will continue to trade under the ticker symbol "BNXAF" on the OTCQX.
Marathon Digital Holdings Inc., one of the largest enterprise Bitcoin self-mining companies in North America, announced the Company will be launching the first Bitcoin mining pool based in North America that is fully compliant with U.S. regulations, including anti-money laundering (AML) and the Office of Foreign Asset Control's (OFAC's) standards. "The geopolitical value of moving mining pools to North America cannot be understated. Bitcoin is now no different than any other strategic or rare earth commodity. In fact, given the number of businesses now leveraging the potential and promise of Bitcoin both for distributed ledger benefits and as a reserve and hedge against inflation points to Bitcoin being with few peers in how important it is for long-term U.S. interest. With the work of the Future of Digital Currency Initiative at Stanford, the team here believes this infrastructure will help further decentralize Bitcoin and secure the fidelity of the network in both the short and long-term," stated Atticus Francken – Co-Founder and Senior Fellow, Future of Digital Currency Initiative at Stanford University. 
Legal Disclaimer / Except for the historical information presented herein, matters discussed in this article contains forward-looking statements that are subject to certain risks and uncertainties that could cause actual results to differ materially from any future results, performance or achievements expressed or implied by such statements. Winning Media is not registered with any financial or securities regulatory authority and does not provide nor claims to provide investment advice or recommendations to readers of this release. For making specific investment decisions, readers should seek their own advice. TechX Technologies Inc.
has paid three thousand five hundred dollars for advertising and marketing services to be distributed by Winning Media. Winning Media is only compensated for its services in the form of cash-based compensation. Winning Media owns ZERO shares of TechX Technologies Inc. Please click here for full disclaimer.
Contact Information:

2818047972

[email protected]